CASE STUDY | CUSTOMER ACQUISITION
Acquiring qualified leads at a trade show for an accounting firm
Southbrook Accounting, an accounting firm specializing in the skilled trades industry, approached us for help with its trade show booth design and display. The trade show was specific to landscaping, an industry they know and service very well.
Sounds simple, right? Well, we had bigger plans 😉.
We consulted with the client on their bigger objective at the trade show and discovered the underlying challenge was to acquire qualified leads.
THE APPROACH |
SOUTHBROOK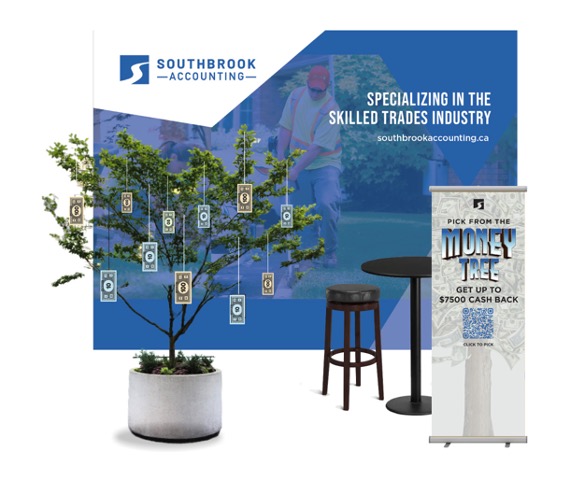 Our consultative approach involved looking at the whole marketing funnel versus asset creation for the top of the funnel. We knew we had to create a compelling conversion offer to attract and engage visitors at the trade show booth. Our creative team orchestrated a gated prize offer to gain qualified leads.
We knew Southbrook needed an automated process to capture and nurture these leads effectively. So, we set them up with and configured our favourite, powerful CRM resource, HubSpot, to connect all the dots.
Our efforts resulted in a full-funnel marketing program and a well-oiled lead-generation machine that our client could easily replicate.
Our consultative approach also generated a lot of important knowledge-sharing. Getting our clients to think critically about their marketing efforts and business decisions is an intangible but powerful deliverable we provide.