CASE STUDY | BUDS SPAS & POOLS
How Buds Spas & Pools achieved 120% sales uplift in one year using HubSpot.
THE ASK |
BUDS SPAS & POOLS
So, we wanted to share the success story of how we helped Buds Spas & Pools achieve their marketing goals and realize true revenue growth from their inbound marketing program.
THE CHALLENGE |
BUDS SPAS & POOLS
Buds has been in operation since 1967 and is one of the oldest spa and pool companies in Canada.
We've been working with Buds for more than eight years, originally offering website design and development support as well as help with various IT and technical issues. Historically, Buds had been using another marketing agency to run traditional marketing campaigns such as radio commercials and billboard and transit shelter ads, as well as local campaigns in newspapers and the Yellow Pages. But the spa and pool experts were losing faith in this conventional marketing approach. They found it difficult to track performance and were struggling to generate a solid ROI from their investment.
In fact, they were ready to throw in the towel on the whole concept of marketing.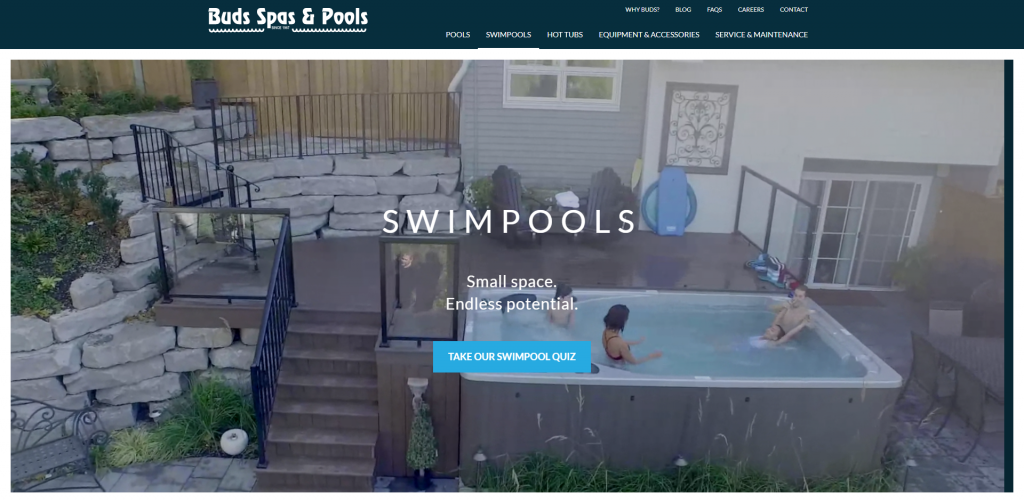 A new approach to marketing
We knew Buds needed to take a different approach to their marketing efforts. Instead of spending their whole budget on one or two large-scale campaigns and attempting to market 'everything to everyone' as they had in the past, we suggested developing a focused, inbound marketing program that would target a key buyer persona.
We knew recommending this new approach to marketing would potentially scare off Buds, who were used to more conventional methods. So we asked for a modest budget to invest towards their first 12-month inbound marketing program to prove ourselves. Reluctantly, they agreed.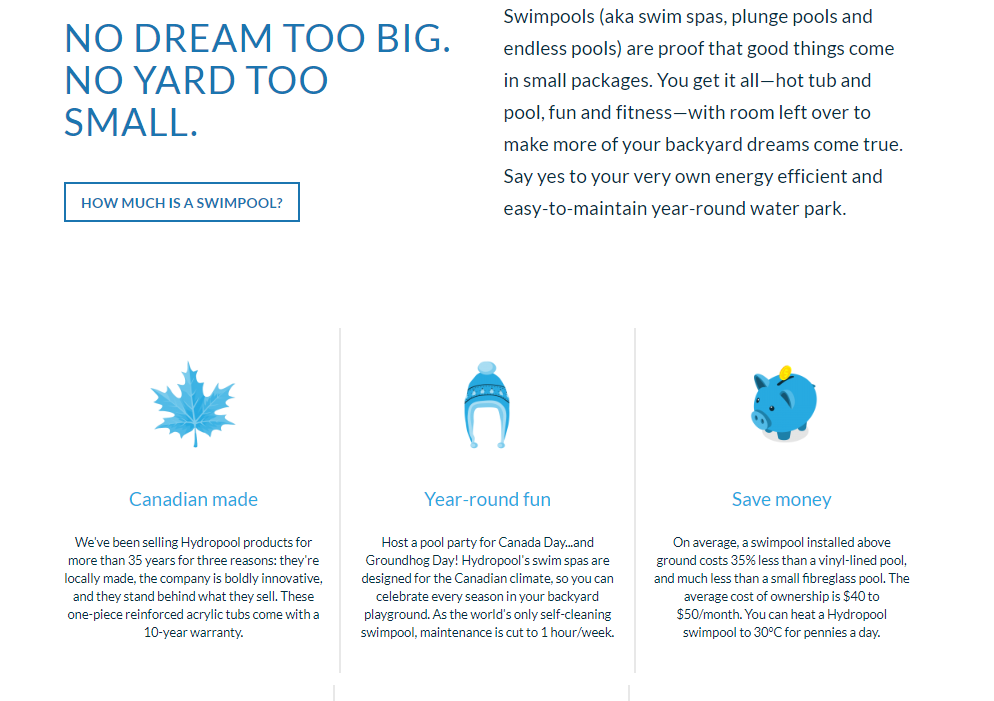 The first thing we did was look at Buds three main business lines: pools, swimspas and hot tubs. From their years in the business, Buds knew each product attracted a different type of customer and they rarely bought more than one product. We also wanted to take into consideration which of these products had the biggest capacity for growth and of course, which offered the biggest profit margins.
After some initial research, we discovered that the market for swimming pools was becoming increasingly competitive and Buds were struggling to find pool installers, as many landscaping companies had started moving into pool sales.
Hot tubs had smaller profit margins but also seemed to sell well on their own without much marketing.
But it came to light that swimspas – also called plunge pools or endless pools – offered a high profit margin, were easy to install and offered the biggest growth opportunity for the business.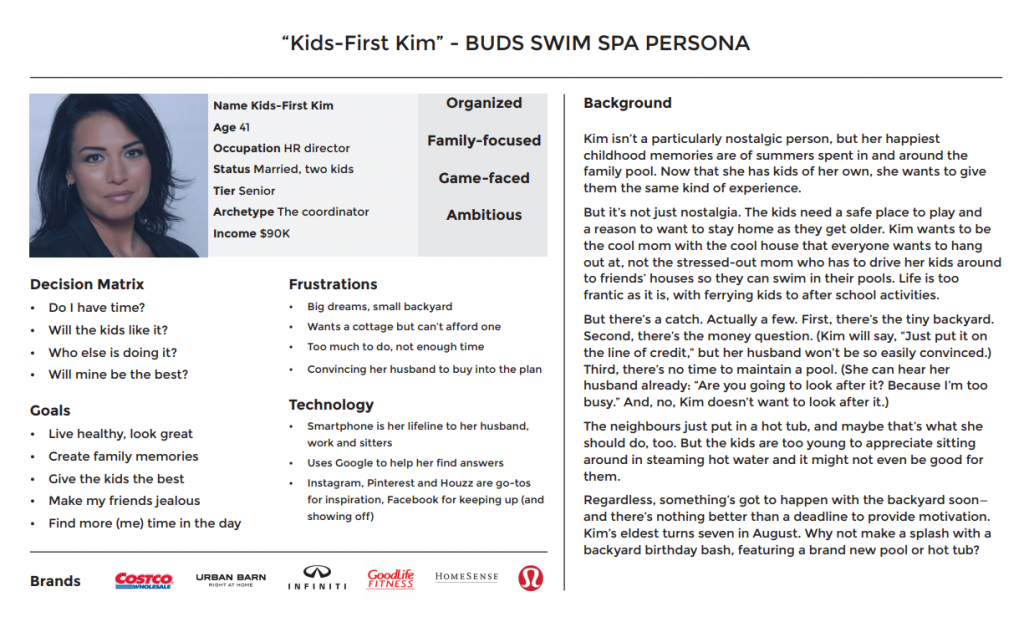 Identifying the target audience
While Buds had a fairly solid grasp on why customers purchased pools and hot tubs, they weren't so sure about the motivations for a swimpool purchase. Before doing any research, there was a general assumption that swimspas were a fitness-related purchase.
But through persona research, it was revealed that fitness wasn't the main reason customers purchased swimspas. What actually drives purchase in most cases is the size of the customer's backyard: many customers who live in subdivisions with restricted lot sizes often didn't have a backyard large enough to fit a standard inground pool. When that was the case, they often opted for a swimspa instead.
We created a persona for Buds target buyer based on this research, 'Kids-First Kim', who wanted all the advantages of a pool – primarily to keep her kids entertained – but didn't have a yard large enough to accommodate one.
Another insight that our research unearthed was that prospective customers were confused by the term 'swimspa' and didn't immediately associate it with a smaller pool but rather with a product featuring lots of jets that offered a more sedentary experience.
After conducting competitor research and looking at other large pool manufactures in the US, we discovered that the term 'swimpool' was used more commonly. The term still included the word pool – which communicated the benefits of a traditional inground product – but suggested a product on a slightly smaller scale.
As part of our strategic marketing program, we worked with Buds to recommended they change the product name from 'swimspa' to 'swimpool' to provide clarity for the customer. Initially, they weren't sure the name change was important – they felt that once they got customers through the door, they could demonstrate the product features and benefits and the name of the product became unimportant. However, our role was to generate awareness in a customer base that may not know about Buds – and to do that, we knew we needed to speak to them using language customers would understand. Eventually, the client agreed.
THE STRATEGY |
BUDS SPAS & POOLS
Developing an award winning strategy
Once we completed our persona research, we wanted to create a campaign using inbound marketing methodologies to create a flywheel framework to attract, engage and delight prospective customers. Our single conversion path would drive visitors to the site and offer them relevant content at each stage of buyer's journey.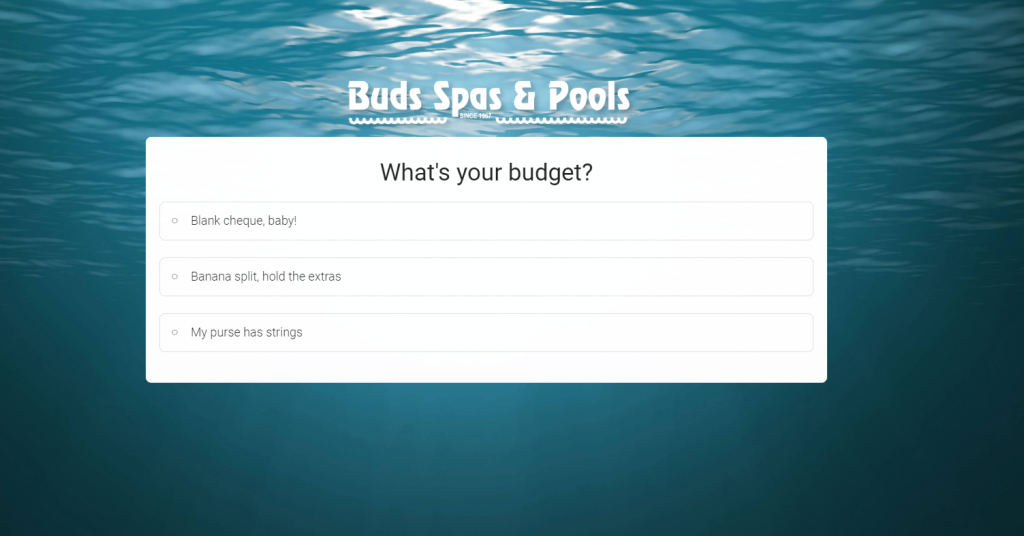 To attract targeted prospects, we added a content marketing piece in the form of a quiz called Which swimpool is the best fit for you?  (we used a third-party quiz plugin called Thrive that we integrated with HubSpot). The quiz included questions on budget, size of backyard, size of family, how leisure time is spent, etc. Before a user received their results, they were asked to share their name and email address to lock in their discount of up to $6,000 off the price of a swimpool.
We also built out Buds swimpool product pages and created an informational swimpools page detailing costs, benefits and features.
Lastly, we created a series of blog posts written with 'Kids-First Kim' in mind, covering topics like: 'The Best Pools for Small Backyards' and 'Pools vs. Swimpools'.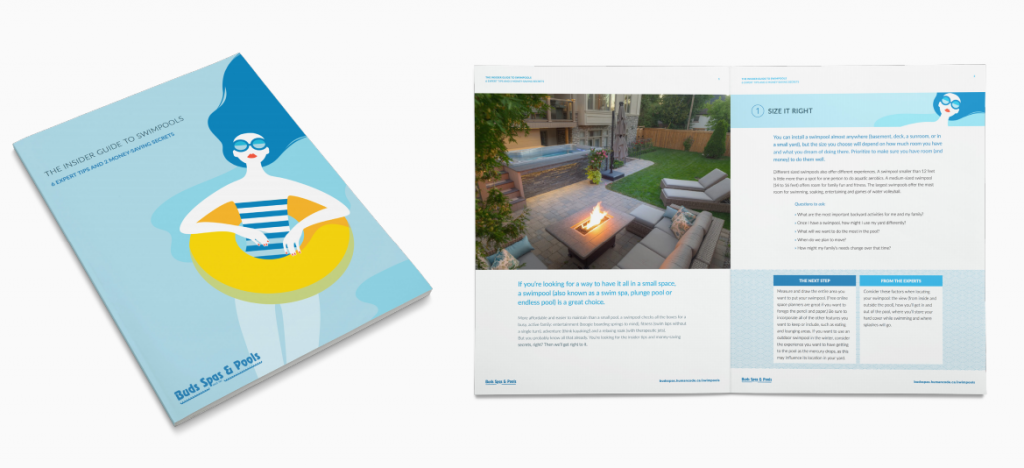 To help keep prospects engaged, we created a 10-page 'Insider's Guide to Swimpools' featuring expert tips and money-saving secrets. This sat behind a form which visitors were required to fill out in order to receive a copy of the guide.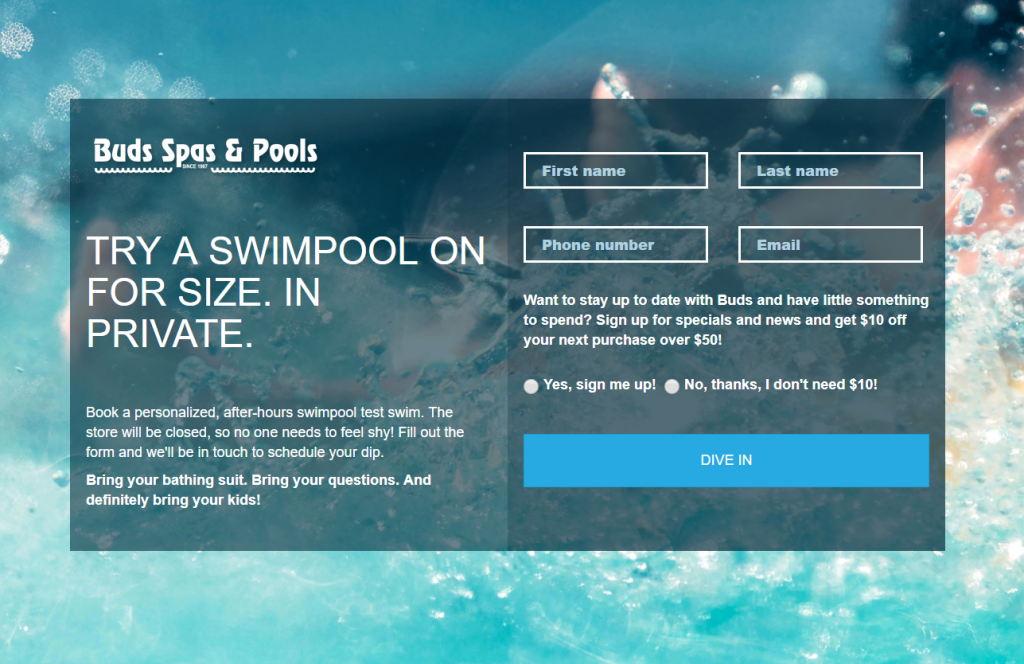 To delight prospects, we gave qualified leads an exclusive offer: a swim test! This allowed them to book a swim test in a swimpool in Buds showroom after the store was closed to the public. They simply needed to visit the swim test landing page and fill out the form to request a session and receive a discount off their next purchase.
To drive traffic to the site, we created a paid Facebook campaign featuring sponsored videos and blogs posts with ad targeting based on our 'Kids-First Kim' persona. We also created a geo-targeted Google AdWords campaign for pool-related keyword searches, also using ad targeting for our 'Kids-First Kim' persona.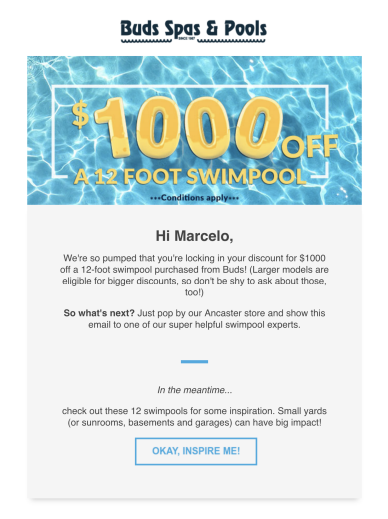 No inbound strategy worth its salt would be complete without an automated email nurture campaign. This campaign used workflows to send a series of emails including an awareness email for our swimpools guide, an exclusive invite to sign up for a swim test and a discount of up to $6,000 the price of a swimpool. Using various enrollment triggers based on a contact's activity and goal completions, we created a series of workflows sending them relevant offers at the optimal time.
We took an iterative approach to this campaign, reviewing metrics and the performance of our program to make decisions based on measurement and real data rather than assumptions.
One of the first insights we gleaned from our data is that after the size of a prospect's yard (which was a non-negotiable, obviously), their next biggest consideration was price. They were very interested in price-based content including cost comparisons and budget saving tips.
And while the various options for swimpool products made it difficult for Buds to be completely transparent in their pricing, we wanted to find some way of communicating the range of prices to customers. We came up with a scale using the dollar sign, one or two indicating a more affordable model and three or four indicating a more expensive one. This helped provide a guide for prospects so they could do research on pricing before they picked up the phone or came into the showroom.
THE RESULTS |
BUDS SPAS & POOLS
Closing the loop between marketing and sales
Our job wasn't just to create a marketing programme and then walk away – we wanted to empower the Buds sales team and arm them with the content, processes and strategies to help them get prospective customers over the line. Our 12-month inbound program also included a focus on sales enablement to support the sales team. For each qualified lead that came through, a deal was created in HubSpot that indicated their stage in the buyer journey. A sales representative would be notified and could use templated emails to follow up with the lead and invite them into the store for a demo.
The deal then progressed through each pipeline stage until they became a customer. Because there is no 'buy now' button on Buds website, getting a lead into the showroom is critical to making a sale. Our program needed to provide the sales team with supporting assets like sales email sequences, leave behinds, blog posts and other pieces of content marketing. This approach helped enhance the sales process after a lead was captured and was pivotal in closing the loop between sales and marketing – and to hit our targets.
The goal of our first inbound marketing program for Buds was to sell 15 swimpools in 2018 (up from 10 swimpools in 2017). This was their break-even number – if Buds could reach that target, they would cover the cost of their marketing spend.
But we're a pretty ambitious bunch here at Human_Code and we like to set our sights a little higher. So, we tasked ourselves with helping Buds sell 22 swimpools. And guess what? We did it! By the end of 2018, Buds had sold a total of 22 swimpools – a 120% increase from the previous year.
THE IMPACT |
BUDS SPAS & POOLS
This was a high-risk campaign for Buds – they had never run an inbound marketing program before and they were used to spending their money on safer – albeit far less effective – marketing channels.
As an agency, asking a client to take their whole marketing budget and invest it in targeting just one single type of customer is a big challenge. But we knew if we did that upfront research properly, it would set up Buds for success. At Human_Code, we want to push our clients to try new things, take calculated risks and realize a better return on their investment.
And while Buds were initially hesitant to make a change, once they saw the results, they were completely on board with our approach and have doubled their inbound marketing budget for 2019.
Need an extraordinary agency to challenge your marketing strategy? Get in touch today to see how Human_Code can help.